GMB Steel, Inc. offers a direct source of pre-engineered metal buildings for any industry. The best thing  about choosing pre-engineered buildings is the flexibility they offer. You can utilize steel buildings for many  types of your buildings needs. A few popular uses for these structures include the following.  Request a Free Quote! 
Agricultural Buildings – barns, riding arenas, hay storage & peanut warehouses
Commercial Buildings – self storage, warehouses, retail centers & hangers
Government Buildings – municipal
Industrial Buildings – manufacturing, shops & warehouses
Institutional Buildings – churches, fellowship and family life centers
Recreational Buildings– gym & sport arenas
Residential Buildings – garages and storage
Mini Warehouse System – climate and non-climate self storage
Interior Self Storage Mini Conversion
CLEARSPAN BUILDING
No interior columns.  Can be either a gable-symmetrical OR gable-unsymmetrical. Gable-symmetrical is where the gable or peak of the building is symmetrical or evenly spaced in the middle of the building frame.  Gable-unsymmetrical is where the gable or peak of the building is offset from the middle of the building frame. The clearspan building offers the end user the proven practicality of a rigid frame with almost unlimited size flexibility.
MODULAR BUILDING
Contains interior columns. Interior columns divide the building into modulars – 1 interior column has 2 modulars where 2 interior columns will have 3 modulars.  The modular building is specially designed for large buildings widths such as manufacturing plants, warehouses, and retail stores. These buildings can be designed to incorporate a crane system.
SINGLE SLOPE / LEAN TO
Single slope frame has no gable or peak. The entire roof slopes to one side of the  building and is typically used for retail strip centers.   Lean To can be used to add to the side of an existing building.

Click on photo to enlarge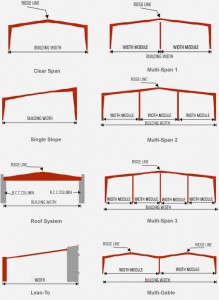 CALL OR EMAIL TODAY:
P.O. Box 550605
Gastonia, NC 28055
Ph/Fax 704-461-8534
General Information – info@gmbsteel.com
Sales – sales@gmbsteel.com
Like us on Facebook