SKYLIGHT PANEL
Skylights are made with continuous strand woven fiberglass, in addition to the usual multi-directional mat of chopped glass  fibers imbedded in a fire retardant resin, formed to match roof panel configuration. They are available in white only. Optional  U.L. fire rated or UL 90 rated

  ROUND GRAVITY VENTILATORS
Round gravity ventilators are available in a 20″ diameter opening and in a painted white finish. Bird screen and chain  operated damper is provided.

  GUTTER AND DOWNSPOUTS
Gutters and downspouts are offered in our standard color schemes. The architecturally sculptured gutters can be used to color  accent a building scheme. Gutters have a built-in overflow feature so if they become blocked with debris, water will overflow  on the outside of panel, not the building interior.
  EAVE TRIM
For cost-savings or when gutters aren't necessary, eave trim is available. It comes in our standard color systems.
  OVERHEAD AND ROLLUP DOOR OPENINGS
Framed door openings to fit any sized overhead or rollup door are available. The door is not furnished with the building  package. Optional trim to cover face of jamb and header is available.

  MARQUEE AWNINGS
The Marquee Awning provides shelter for door openings at an economical price. They are the perfect alternative for those  locations where structural canopies or overhangs are either not desired or cannot be used.

  ALUMINUM WINDOWS
Aluminum windows are offered in the horizontal sliding and single hung models, and come in a variety of sizes. Made of long-  life weather resistant aluminum, these glazed windows feature half screens. Bronze finish and tinted glass are available as options.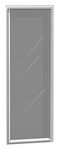 SLIM LINE
Slim Line fixed accent windows are available in minimal width of 1′, 2′ and 3′ x 7'0″ height. They come with gray light  tempered glass and bronze enamel finish. Windows are self-flashing and connect to the panel system. No predetermined  fixed framing is required. Insulated glass is available as an option.

  DEKITE
Dektite Roof Jacks are available for vent (stack) sizes of 1″ to 13″ in diameter. Dektite's resilience allows it to accommodate  expansion and contraction of both pipe and roof sheets. It requires no sealant or caulk at the pipe and can be placed at highs  or lows of panel.

  GRAVITY MONOVENT
Gravity Monovents are available in 10′ sections with both ends enclosed. Throat (opening) sizes are 9″ or 12″ and are painted  white. All monovents have bird screens with adjustable dampers optional.

  SLIDING DOORS
Sliding doors are provided in widths from 7'6″ to 20'0″ utilizing the standard top-hung system. The clear openings are 2'0″ less  than the specified sidewall height.

  WALL LOUVERS
Wall louvers can be used to enhance air flow throughout the building. They are available in white and Galvalume¨ and are  furnished in fixed blade or manually adjustable blade models. Various sizes are available.

  PASSAGE DOORS
Standard passage doors are furnished in 3'x7′ single leaf and 6'x7′ double leaf systems. They are hollow metal doors available  in solid or glass panel leafs. The exterior is painted with a primer coat only and finished coats are field applied. The doors are  furnished complete with insulated door jambs, threshold, hinges and hardware. Closers are optional.

  PASSAGE DOOR HARDWARE
Passage door hardware comes with a standard knob that can be locked from either side. It is keyed on the outside and locked  by a push button on the inside. Door closers and additional hardware are available as options.


  PROJECTION WINDOWS
Steel and aluminum projection windows are available on special order in any standard size and are used primarily in buildings where maximum air flow is desired. They are provided unglazed.

  ROOF AND WALL FASTENERS
Roof and wall fasteners are available in numerous types and sizes. The correct choice of fasteners to be used to attach the roof  and the wall panels is very important. A variety of self-tapping screws (which require a pre-drilled hole) and self-drilling holes  (which drill their own holes) are available to match the color of the panel.
CALL OR EMAIL TODAY:

 P.O. Box 550605
Gastonia, NC 28055
Ph/Fax 704-461-8534
General Information – info@gmbsteel.com
Sales – sales@gmbsteel.com
  Like us on Facebook